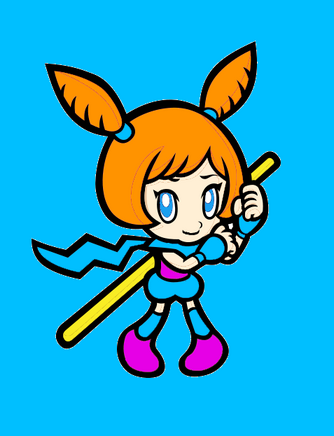 Anabelle "Ana" Tojongra
is an Character of the 1997 Tahaja Saga 
WarioWare
.
Bio
Gender: Female
Species: Human
Alignment: Good
Age: 05
Occupation: Kunoichi Ninja, Kinderganter & "The Girl Power" Drummer
Personal Color: Sky Blue (Cyan in WarioWare: Portfolio Cartoon
Boyfriend: Jimmy. P (Only in WarioWare: Portfolio Cartoon)
First Introduced: WarioWare 1 (1997).
WW: Portfolio Cartoon Debut: S01 E09A: Manga-Manga.
Friends: Wario, Mona, Penny, Orbulon, Ashley, Dribble, Spitz, Kat (Older Sister), Young Cricket (Best Friend), Jimmy. T, 9-Volt, 18-Volt, Dr. Crygor, Mike, .
Friends (Only in WarioWare: Portfolio Cartoon): Picuyi, Timm, Socki, Jimmy. P (Boyfriend in the Show), Mini-Wario, Tony, Natalie
Rivals: Demon Brothers Arlond & Goliat (Arch-Rivals), Miss. Cecilia (formerly), Mildred Quetzal.
Enemies: Dr. Keith Ventor, Black Jewel, Evil Monsters (Arch-Enemies), Captain Syrup, Splunks, The Dinosaurs, Muncher the King, Sash Lilac, .
Enemies (Only seen in WarioWare: Portfolio Cartoon): Deadrabbit, Virusis, Henlarsey, Clarky,.
Trivia
Counterparts (WarioWare (T,J&H Productions) Version) (Female Version)
Millie or Loly (Thomas the Tank Engine & Friends, Both are Beautiful)
Counterparts (WarioWare: Portfolio Cartoon Version)
Clarabel (Thomas the Tank Engine and Friends/The Railway Series)
Sadie (TUGS/Salty's Lighthouse)
Petra (Theodore Tugboat)
One of Midge Smoot's Granddaughters (Shining Time Station)
Baby Daisy (Super Mario Bros.)
Lyco (Sonic the Hedgehog)
Yaya Panda (Furze Bandicoot)
Sash Lilac (Super Poke Meat)
(Tiny Toon Adventures)
Leslie (Doki's Big Wonderland)
(The Powerpuff Girls)
(Looney Tunes)
Match (JamesWaves)
Kiki (Animaniacs)
The Purple Poodle or the Brown Dog (Garfied and Friends)
(Puck Plugers)
(Claude & Cia's World)
Selma (The Simpsons)
(Kirby)
(Pokemon)
(Wreck-it Ralph)
(Chuggington)
Gallery
Ad blocker interference detected!
Wikia is a free-to-use site that makes money from advertising. We have a modified experience for viewers using ad blockers

Wikia is not accessible if you've made further modifications. Remove the custom ad blocker rule(s) and the page will load as expected.