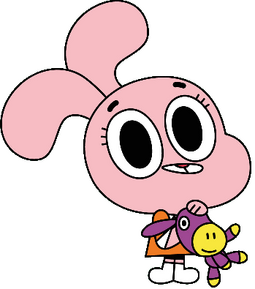 Anais Watterson
is the tritagonist of the series
The Amazing World of Gumball
. She is
Gumball
and
Darwin Watterson
's younger sister.
Bio
Counterparts (Girl Version)

 WARNING: You may add appropriate counterparts. But, do NOT delete any.
Rosie (Thomas the Tank Engine and Friends, both are pink)
Emily or Pugwash (Theodore Tugboat)
Sunshine (Salty's Lighthouse, both are younger sisters to Gumball and Ten Cents)
Birdo (Super Mario Bros., both are pink)
Cream the Rabbit or Amy Rose (Sonic the Hedgehog, both are rabbits and are young)
Lanolin Sheep or Chloe (Garfield and Friends)
Dot Warner (Animaniacs, both are cute)
Babs Bunny, Fifi La Fume, or Sweetie Bird (Tiny Toon Adventures, the litter are pink rabbits)
Jigglypuff, Buneary, or Togepi (Pokemon)
Charlie Duncan (Good Luck Charlie)
Darby (Winnie the Pooh) 
Shelly Marsh (South Park)
Nazz, May Kanker, or Sarah (Ed, Edd n' Eddy)
Blossom or Bubbles (The Powerpuff Girls, both are pink) 
Boo (Monsters, Inc.) 
Inez (Cyberchase) 
Lola Caricola (CatDog)
Lucy Van Pelt (Peanuts) 
Ratchet or Knock Out (Transformers Prime, both are easily angered over something minor)
Stephanie (LazyTown, both are pink)
Tickety Tock (Blue's Clues)
Maya the Bee or Lara the Ladybug (Maya the Bee/Movie, both are cute)
Counterparts (Boy Version)
Percy (Thomas the Tank Engine and Friends)
Miles "Tails" Prower or Charmy Bee (Sonic the Hedgehog)
Kirby (Kirby: Right Back at Ya!)
Spike (My Little Pony: Friendship is Magic)
Gallery
Ad blocker interference detected!
Wikia is a free-to-use site that makes money from advertising. We have a modified experience for viewers using ad blockers

Wikia is not accessible if you've made further modifications. Remove the custom ad blocker rule(s) and the page will load as expected.