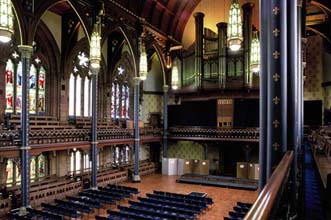 ---
Situado na Ala Norte, ao lado do Grande Salão. O Anfiteatro era chamado pelo reitor Causantín Bloodaxe de "Alma da Noskort", afinal é o local onde muita coisa acontece na universidade. Aulas especiais para todas as turmas, incluindo grandes palestrantes, que incluíram Alvo Dumbledore ou a Ministra Inglesa Granger. Grandes espetáculos também são apresentado aqui sejam peças teatrais da própria trupe da Noskort ou shows de bandas como "As Esquisitonas". E infelizmente as reuniões de emergência também foram feitas aqui, como após o Incêndio de 1922 ou a necessidade de interromper as aulas durante a Primeira Guerra Mágica de 1944.
O Anfiteatro acomoda 2.000 pessoas. Possui camarotes especiais para os reitores, professores e convidados ilustres. E acima do palco tem o gigantesco Órgão de Tubos que é tocado magicamente, embora diziam que o Reitor Nicolai Björling era um grande músico, e toca pessoalmente nas apresentações da Trupe Cliodna.
Não existe efeito, luzes ou cenário que o Anfiteatro não possa reproduzir, e isso só ajuda a Trupe produzier grandes espetáculos. Na qual os ensaios acontecem no Tablado atrás do palco.
Página Inicial | Estrutura

Ad blocker interference detected!
Wikia is a free-to-use site that makes money from advertising. We have a modified experience for viewers using ad blockers

Wikia is not accessible if you've made further modifications. Remove the custom ad blocker rule(s) and the page will load as expected.