Fiction Only
All information present here will be used as guide and reference.
The Angel Cove Police Department is the police department of the city of Angel Cove. It is a civilian police force organized in a paramilitary fashion. The ACPD has a broad array of specialized to meet the need of the city
Overview
History
Organization and Structure
Angel Cove is divided into four geographical areas. Each area is composed of precincts. Each precinct is responsible for the safety and law enforcement within a designated geographical area.
| | | | | |
| --- | --- | --- | --- | --- |
| Central | South | North | Harbor | Heights |
| 001 Precinct | 007 Precinct | 013 Precinct | 019 Precinct | 025 Precinct |
| 002 Precinct | 008 Precinct | 014 Precinct | 020 Precinct | 026 Precinct |
| 003 Precinct | 009 Precinct | 015 Precinct | 021 Precinct | 027 Precinct |
| 004 Precinct | 010 Precinct | 016 Precinct | 022 Precinct | 028 Precinct |
| 005 Precinct | 011 Precinct | 017 Precinct | 023 Precinct | 029 Precinct |
| 006 Precinct | 012 Precinct | 018 Precinct | 024 Precinct | 030 Precinct |
The Chief of Department is the professional head of the Angel Cove Police Department. The Ddeputy Chief of Department is a three-rank and serves as the chief of staff for the Chief of Department. Organizational command is divided between Operational and Administrative Command.
Units
Ranks Structure and Insignias
Rank insignia for Lieutenants through Chief of Department are metal pins worn on the collar of the shirt and on the shoulder of the jacket. Ranks insignia for Police Officers/Detectives and Sergeants are embroidered chevron worn on the upper sleeves.
Tenured officers will have silver-grey hash-marks on the lower left side of their long-sleeved shirts. Each mark represents five years of service.
| | |
| --- | --- |
| Title | Rank Insignia |
| Chief of Department | |
| Bureau Chief | |
| Assistant Chief | |
| Commander | |
| Inspector | |
| Deputy Inspector | |
| Captain | |
| Lieutenant/Detective-Investigator First Grade | |
| Sergeant | |
| Detective-Investigator Second Grade | |
| Police Officer I | |
| Detective-Investigator Third Grade | |
| Police Officer II | |
Unlike most US police department, Detectives in ACPD is considered as a specialty and police officer can be assigned to detective squad through written exam. Upon successful completion, police officer will be re designated as Detective-Investigator. Since detective are still police officer, they often rotated to patrol regularly when possible.
Promotion from Police Officer to Sergeant, Sergeant to Lieutenant, and Lieutenant to Captain all occur via a civil service formula that factors: performance on the civil service written examination for that rank, length of service, citations awarded, optional physical fitness test (for extra points). Promotion beyond the rank of Captain is discretionary. Promotion to Deputy Inspector and above is based on merit and those promotions are made by the Mayor.
The Chief of Department is the highest ranking and de facto head of the Angel Cove Police Department. ACPD is divided into different Bureaus, each controlling different departments. Each bureau is commanded by a Bureau Chief.
Resources
Uniforms
The ACPD uniform is a navy blue colored shirt either in long or short sleeve. Identifying marks such as badge, shoulder patch and identification badge may be worn on the uniform is authorized.
All officers wear the ACPD patch on their right shoulder, organizational patch (SWAT-ERT, K9; with tab, officers awarded with a tab), their official badge on their left upper chest (pilot's wings, SWAT-ERT Badge are worn below the badge), and silver anodized surname badge on their right upper chest. Rank insignia is worn on the sleeves for sergeants and below, and on the collar or shoulders for senior officers. Tenured officers will have silver-grey hash-marks on the lower left side of their long-sleeved shirts. Each mark represents five years of service. Awards and decorations are worn on a rack above the badge.
Different types of uniform exist within the ACPD worn on specific occasion that may warrant formal or casual attire.
Dress Uniform. Dress uniform are worn on formal occasions. It consist of a navy-blue coat worn over a white long-sleeve shirt, navy-blue bow-tie, tie clasp, navy-blue trousers and black shoes. Awards and decorations are still worn except the shoulder patches and tabs. rank insignia are worn on the shoulders instead of the usual location in the collar.
Service Uniform. Service uniform are worn by officers on duty. There are two variants for the service uniform; the long-sleeve variant and the short sleeve variant. The long-sleeve variant is a navy-blue, long-sleeve uniform and is worn with a navy-blue tie and tie clasp. The short-sleeve uniform is worn without a tie. SWAT-ERT Officers on patrol duty usually wear a modified service uniform similar to uniform worn by the 101st Airborne in the US Army. The modified uniform is consist of the short-sleeve uniform worn with bloused pants and combat boots. Beret is worn instead of the service cap or the baseball cap.
Utility Uniform. Utility uniform are worn by members of the ACPD assigned to specialized divisions within the ACPD. The utility uniform is most often utilized by members of the ACPD SWAT-ERT, K9, EOD and police pilots. Utility uniforms are specialzied uniform to provide protection to the user.
Captains and above have the option of not wearing the uniform, but may do so in official capacities or if the situation calls for it. members of the ACPD that does not wear the uniform stil has to follow the departments dress code. Detectives and senior officers normally does not wear the uniform but are still required to carry their badge. Exemption to the rules are undercover agents who are authorized not to carry anything that may identify them as police officers.
Equipments
Service Firearms
See also: List of Angel Cove Police Department Service Firearms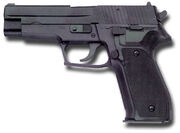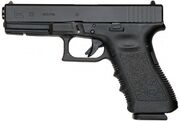 Officers of the ACPD are issued with 9mm service pistols. The department has currently two service pistols which officer may choose to be issued; SIG P226 or Glock 22. Compact backup options are SIG P228 or Glock 33. Officers may opt to carry their own firearms but must be authorized by the ACPD armorer before being allowed.
In addition to pistols carried by the officers, the Remington 870 or Ithaca 37 shotgun are carried in most patrol vehicles. Shotgun are carried in cases where a higher fire power is needed.
SWAT-ERT has the most variety of weapons at their disposal. Weapons used by the division ranges from sub machine guns to rifles. Weapons used by SWAT-ERT are specifically chosen for effectiveness in close quarters combat (CQC). Sub machine guns authorized for use by the department include the H&K MP5 which is rapidly being replace by the newer H&K UMP.
AR-15 assault rifle and AR-15 A3 tactical carbine is almost exclusively used by the SWAT-ERT units. Sniper rifle includes Remington 700-P.
Vehicles
See also: List of Angel Cove Police Department Vehicles
The majority of police cars utilized by the Angel Cove Police Department are Ford vehicles. Ford police vehicles were the standard police car for the department until recently when the department signed in with Dodge and Hummer to replace the aging fleet of Ford vehicles.
The paint scheme utilized by the department is the standard black-and-white color scheme. The ACPD Seal is placed in the front doors with emergency numbers marked on the rear of the vehicle. Unit number are painted on the roof and on the side to help ease the identification of the vehicle.
Specialized units of the department utilized specialized vehicles that are often unique to each division. Aside from the usual fleet of police cars, the ACPD utilizes a variety of SUVs, light to heavy trucks, helicopters and boats for special purposes.
Along with marked vehicles, the department also uses a variety of unmarked vehicles for undercover work and surveillance. These units often have discrete emergency light bars and sirens that can be activated when needed. Both the marked and unmarked cars are part of the package delivered by the manufacturers.
ACPD Awards, Commendations, Citations and Medals
The Angel Cove Police Department presents medals to its members for meritorious service. The medals the NYPD awards are as follows (from highest medal to lowest):
Bravery
ACPD Medal of Honor
ACPD Police Cross
ACPD Medal of Valor
ACPD Life Saving Medal
ACPD Distinguished Service Medal
ACPD Purple Shield
Service
Police Meritorious Service Medal
Police Meritorious Achievement Medal
Police Commission Distinguished Service Medal
Community Policing Medal
Human Relations Medal
Unit Citation
Police Commission Unit Citation
Police Meritorious Unit Citation
See Also
Ad blocker interference detected!
Wikia is a free-to-use site that makes money from advertising. We have a modified experience for viewers using ad blockers

Wikia is not accessible if you've made further modifications. Remove the custom ad blocker rule(s) and the page will load as expected.