Denominations

Main Page | FAQ | By Theology | By Worship | By Place
At least five Anglican or Episcopal denominations have congregations in greater Washington, DC.
Anglican Mission in America (AMIA)
The Anglican Mission in America (AMIA) is . . . .
Anglican Province of Christ the King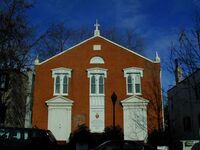 The Anglican Province of Christ the King was formed out of the Episcopal Church in 1977. It has one parish currently meeting in the Washington, DC area. The Parish of Christ the King is located in Georgetown, in northwest Washington. The Province began as a response to the 1976 General Convention of the Episcopal Church USA (ECUSA), which adopted a draft of what became the 1979 Book of Common Prayer (BCP) and allowed the ordination of women. The Province is predominantly Anglo-Catholic and is traditional in its worship.
Convocation of Anglicans in North America
The Episcopal Church USA
The Reformed Episcopal Church
Ad blocker interference detected!
Wikia is a free-to-use site that makes money from advertising. We have a modified experience for viewers using ad blockers

Wikia is not accessible if you've made further modifications. Remove the custom ad blocker rule(s) and the page will load as expected.