Welcome to the Animaniacs mini wiki at Scratchpad!
You can use the box below to create new pages for this mini-wiki.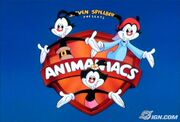 Animaniacs is an American animated comedy television series created by Tom Ruegger. It is the second animated series produced by Amblin Television in association with Warner Bros. Animation during the animation renaissance of the late 1980s and early 1990s. Animaniacs first aired on Fox Kids from 1993 to 1995 and new episodes later appeared on The WB from 1995 to 1998 as part of its Kids' WB afternoon programming block. The series had a total of 99 episodes and one film, titled Wakko's Wish.
Characters

Main article:
Animaniacs/Characters/Gallery
Episodes

Main article:
List of Animaniacs episodes
Parodies

 WARNING: You may add parodies. But, do NOT delete any. Complete parodies list
Ad blocker interference detected!
Wikia is a free-to-use site that makes money from advertising. We have a modified experience for viewers using ad blockers

Wikia is not accessible if you've made further modifications. Remove the custom ad blocker rule(s) and the page will load as expected.