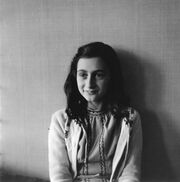 Annelies Marie (Anne) Frank (12 June 1929 - March 1945) was a German-born diarist.
Friends: Otto Frank, Edith Frank, Margot Frank, Miep Gies, Fritz Pfeffer, Hanneli Goslar, Sanne Ledermann, Victor Kugler, Johannes Kleiman, Peter van Pels, others
Enemies: Adolf Hitler, Benito Mussolini, Karl Silberbauer, others
Counterparts
Emily, Mavis, or Molly (Thomas the Tank Engine and Friends)
Lillie Lightship (TUGS)
Isabella Garcia-Shapiro (Phineas and Ferb)
Wendy Testaburger (South Park)
Ad blocker interference detected!
Wikia is a free-to-use site that makes money from advertising. We have a modified experience for viewers using ad blockers

Wikia is not accessible if you've made further modifications. Remove the custom ad blocker rule(s) and the page will load as expected.