Ad blocker interference detected!
Wikia is a free-to-use site that makes money from advertising. We have a modified experience for viewers using ad blockers

Wikia is not accessible if you've made further modifications. Remove the custom ad blocker rule(s) and the page will load as expected.
Translation : Painter from Mechelen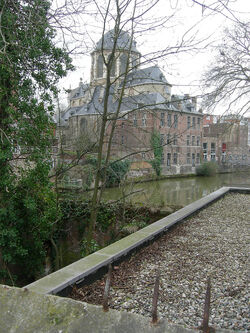 Antoon – Antoine – Van Hammée werd geboren te Mechelen op 25 maart 1836 en overleed te Schaarbeek op 6 januari 1903. Antoon Van Hammée was een kunstschilder en tekenaar van historische taferelen en portretten. Zijn afbeeldingen werden tot de Belgische School gerekend.
Biografie
Antoon Van Hammée kreeg, tussen 1854 en 1855, een opleiding aan de Mechelse academie en, vanaf 1855, vervolgde hij deze aan de Koninklijke Academie voor Schone Kunsten in Brussel onder de leiding van François-Joseph Navez. In 1864 was Antoon Van Hammée leerling in het atelier van de Vilvoordse kunstschilder Jan Frans Portaels.
De werken van Antoon Van Hammée behoorden tot de Romantiek omdat de compositie en de exactheid van de kledij schitterend werden weergegeven. Vanaf 1866 begon Antoon Van Hammée een overzicht van de kledij door de eeuwen heen weer te geven, wat weerspiegeld werd door de vele portretten en genretaferelen die ontleend waren uit onderwerpen uit Griekenland en Pompeii.
De werken van Antoon Van Hammée werden en worden nog steeds aangeboden op nationale en internationale veilingen. Enkele voorbeelden :
"Une cour de palais dans l' ancienne Rome" – 1877 [1]
"Anthony and Cleopatra overseeing the execution of the conspirators" [2]
"Pont animé en Afrique du Nord"
"Les légions Romaines traversant Lenil près de Philaee"
"Roman street scene" – 1873 [3]
"Vissersboten bij rustige zee" – 1885 [4]
"Afrikaan met tulband" [5]
Carrière
Antoon Van Hammée was
Leraar Archeologie en kunstgeschiedenis aan de Koninklijke Academie voor Schone Kunsten in Brussel (1878 tot 1903)
Conservator in de afdelingen Monumentale Kunst en Decoratieve Schilderkunst in het museum Cinquantenaire in het Brusselse Jubelpark
Aan de Koninklijke Academie voor Schone Kunsten in Brussel was de Schaarbeekse kunstschilder Lucien Wollès één van zijn leerlingen.
Hanswijkkerk Mechelen
Antoon Van Hammée was de broer van Rombaut Van Hammée, die pastoor was in de Hanswijkkerk in Mechelen tussen 1867 en 1899. Voor de kerk schilderde Antoon Van Hammée, over een periode van acht jaar, een monumentale kruisweg (14 schilderijen van elk 3 op 2,30 meter). Bij de beëindiging van dit kunstwerk kwamen zelfs de Belgische koning Leopold II en zijn vrouw Marie Henriëtte het geheel bewonderen. Het geheel hing van 1888 tot 1938 in de Basiliek waarna ze naar de zolder van de sacristie verhuisde omwille van schilderwerken. Nadien werden ze echter nooit meer teruggeplaatst. [6]
Brussel
François Van Campenhout
De Belgische operazanger en dirigent François Van Campenhout was de componist van het Belgisch volkslied Brabançonne. Naast de Brusselse kunstschilder Charles Baugniet vereeuwigde ook Antoon Van Hammée deze componist terwijl deze de hymne zong in het bekend Brussels café Cantoni. [7]
Cercle des Aquarellistes et des Aquafortistes Belges
Antoon Van Hammée was één van de leden van het "Cercle des Aquarellistes et des Aquafortistes Belges" dat was opgericht in het café "A la Porte Verte" op 3 augustus 1883. Deze groep van kunstenaars was behoudsgezind die het niet nastreefde om, door sensationele artistieke manifestaties, het Brusselse publiek voor het hoofd te stoten. De leden van deze groepering waren allen werkzaam als ofwel grafisch kunstenaar of aquarellist.
Schaarbeek
In 1876 trouwde Antoon Van Hammée te Parijs met Marie Lariviére uit Rio de Janeiro [8] en resideerde een hele tijd in De Lochtstraat 26 in Schaarbeek. [9]
Schaarbeek hernoemde één van zijn voornamere straten naar Antoon Van Hammée. [10]
Sportpaleis
Ernest Van Hammée was een neef van Antoon Van Hammée en het was op zijn initiatief dat het sportpaleis van Schaarbeek in 1912 werd gebouwd. [11]
Boeken
Antoon Van Hammée werd vermeld in
"Biographie Nationale – Deel XXXV" – Koninklijke Academie van België
"Twee eeuwen Signaturen van Belgische kunstenaars"
Externe links
Voetnoten