Apocalypse Now (1979) at Wikia
---
[
]
Welcome to the Apocalypse Now (1979) mini wiki at Scratchpad!
You can use the box below to create new pages for this mini-wiki.
Apocalypse Now
is a 1979 American
epic
war film
set during the
Vietnam War
, Produced and Directed by
Francis Ford Coppola
and starring
Marlon Brando
,
Martin Sheen
, and
Robert Duvall
. The film follows the central character,
U.S. Army
special operations
officer
Captain
Benjamin L. Willard
(Sheen), of
MACV-SOG
, on a mission to kill the renegade and presumed insane
U.S. Army Special Forces
Colonel
Walter E. Kurtz
(Brando).
The screenplay by John Milius and Coppola came from Milius's idea of changing Joseph Conrad's novella Heart of Darkness into the Vietnam War era. It also draws from Michael Herr's Dispatches,[1] the film version of Conrad's Lord Jim which shares the same character of Marlow with Heart of Darkness, and Werner Herzog's Aguirre, the Wrath of God (1972).[2]
The film has been noted for the problems encountered while making it. These problems were chronicled in the documentary Hearts of Darkness: A Filmmaker's Apocalypse, which recounted the stories of Brando arriving on the set overweight and completely unprepared; costly sets being destroyed by severe weather; and its lead actor (Sheen) suffering a heart attack while on location. Problems continued after production as the release was postponed several times while Coppola edited thousands of feet of footage.
Upon its release, it received critical acclaim. It is now widely regarded as one of the greatest films ever.[3][4][5] Honored with the Palme d'Or at Cannes, and nominated for the Academy Award for Best Picture and the Golden Globe Award for Best Motion Picture – Drama, the film was also deemed "culturally, historically or aesthetically significant" and was selected for preservation by the National Film Registry in 2000. In the Sight and Sound Greatest Films poll, the film was ranked #14.
Parodies

 WARNING: You may add parodies. But, do NOT delete any. Complete parodies list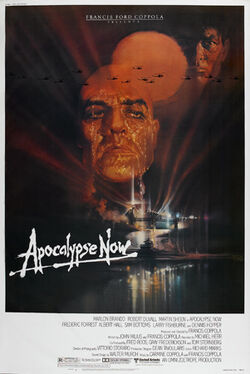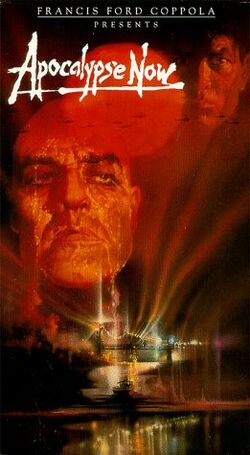 See also
References
Ad blocker interference detected!
Wikia is a free-to-use site that makes money from advertising. We have a modified experience for viewers using ad blockers

Wikia is not accessible if you've made further modifications. Remove the custom ad blocker rule(s) and the page will load as expected.