Archaeoacoustics at Wikia
---
[
]
Welcome to the Archaeoacoustics mini wiki at Scratchpad!
You can use the box below to create new pages for this mini-wiki. Make sure you type [[Category:Archaeoacoustics]] on the page before you save it to make it part of the Archaeoacoustics wiki (preload can be enabled to automate this task, by clicking this link and saving that page. Afterwards, you may need to purge this page, if you still see this message).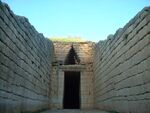 Introduction
The aim of this Archaeoascoustics wiki is to gather and document ideas and terminology that can be useful for the archaeoacoustic environment. In the future it is expected to hold tools; like rules of thumb for aural architecture and equipment of measuring specific acoustic/aural properties of spaces. If you you have ideas, let them be known!
Some links
Victor Reijs' acoustical pages
Join and take part in the Archaeoacoustics e-group
Acoustic responces of several monuments on hand clapping or bursting ballons