Are You Not My Neighbor is a sequel to The Good Egg of Gooseville.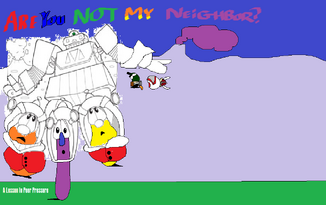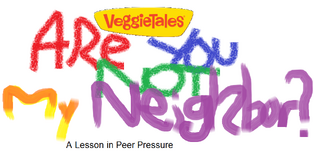 Characters
Bob the Tomato as Mayor Humpty
Junior Asparagus as Baby Bear
Larry the Cucumber as Jumping Jack/Little Boy Blue
Ellen as Mama Bear
Laura Carrot as Goldilocks
Mr. Lunt as Papa Bear
Jean-Claude Pea as Jack
Jill Pea as herself
Madame Blueberry as Miss Muffet
Ermie Asparagus as Little Bo Peep
Mr. Nezzer as Sergeant
Trivia
This is the second VeggieTales episode with the title "Are You My Neighbor?" The first was the said episode of VeggieTales. This time, the title said "Are You Not My Neighbor?".
This is also the second VeggieTales episode with a lesson in handling peer pressure. The first was Rack, Shack & Benny.
DVD Artwork
Front Cover
Back Cover
Bonus Features
Studio Store
Behind the Scenes
Bonus Episode: Dr. Jiggle and Mr. Sly
Friends of VeggieTales
"Red or Blue" Singalong
Opening Previews
Warning screen
DVD menu
"Stay Tuned After our Main Presentation for a Special Bonus Feature"
Why We Do, What We Do
Scene Index
VeggieTales Theme Song
Countertop Intro
Welcome Back to the Town of Gooseville
Come to the Dark Side, Gooseville People!
The Plan
"Red or Blue"
Unwanted Guests
Jail Time
Honoring a Good Neighbor
Closing Countertop
Credits
Bonus Episode: "Dr. Jiggle & Mr. Sly" (From "A Snoodle's Tale")
Closing Previews
Huhu Studios, ltd. Logo
Big Idea logo
"Dr. Jiggle and Mr. Sly"
DVD Credits
Gallery
Ad blocker interference detected!
Wikia is a free-to-use site that makes money from advertising. We have a modified experience for viewers using ad blockers

Wikia is not accessible if you've made further modifications. Remove the custom ad blocker rule(s) and the page will load as expected.