Arjastan is a country located in the northern continent. The capital city is Crnovac. For information on Arjan entries and national finals for NSC, see Arjastan in the NSC.
Population
The population of Arjastan is 23,643,107 according to the census taken in February 2007. 88.4% (20,900,507) of these people have the Arjan nationality, although only 73.7% (17,424,970) are ethnically Arjan. The biggest minorities come from Tomstria and Gabriel, although a growing number of people from Ugaly are also arriving.
Political Geography
Arjastan is a landlocked nation, bordered by Tomstria, Gabriel, Escotia, Brugia and Ugaly. It also shares a lake with Saksjaowie and Spila.
Arjastan is split into 6 states as well as a capital district area (Crnovac). The six states enjoy a reasonably high level of autonomy, although recently the government is cracking down on separatist feelings growing in several of the states.
International Relations
Arjastan tries to remain neutral in international conflicts, due to a conflict-filled past. Generally relations with the neighbouring states are friendly, particularly with Tomstria and Gabriel.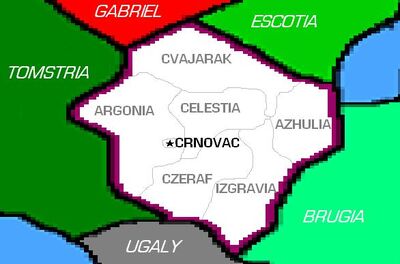 Languages
Arjan is the official language, although various other languages are in use in Arjastan. Izgravian and Argonian are official languages in their respective states, equal with Arjan, and Azhulian is recognised as an endangered language by the Arjan government.
Arjan has roots in various different languages, for example Slavic and Germanic ones. However, it is not really closely related to any other language.
The principal foreign languages for business are English, French, Dutch and German.
Ad blocker interference detected!
Wikia is a free-to-use site that makes money from advertising. We have a modified experience for viewers using ad blockers

Wikia is not accessible if you've made further modifications. Remove the custom ad blocker rule(s) and the page will load as expected.