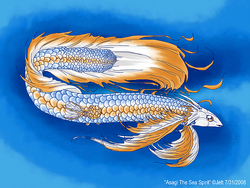 Another proported familiar, this Koi-Beta cross looking Summon is thought to belong to Ramiel the Guardian Dragon of Water. It is long and serpentine like a sea snake, with a blue top and a white underbelly. It has an orange stripe on either side of it's body along the length and it's head is white. It's fins and tail are both orange and white, and are long and frilled like a Beta fish. It's mouth is similar to a Beta as well, and like a sea snake it's tail flattens out vertically at the end and is rounded instead of the typical split < of a fish. wherever it goes it is followed by a continuous flash-flood spell and a rainstorm that keeps it mobile and moisturized even when on dry land. When summoned this leviathan can and will attack it's opponents with any of the three lightning spells, flood them with it's acompanying water, or strike them with it's tail. It can also call up the spell Tsunami to use against it's enemies. When dismissed Asagi will swim off taking it's water and rainstorm with it.
Ad blocker interference detected!
Wikia is a free-to-use site that makes money from advertising. We have a modified experience for viewers using ad blockers

Wikia is not accessible if you've made further modifications. Remove the custom ad blocker rule(s) and the page will load as expected.