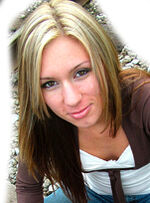 Ask Erin Threads
are very popular among AJM STUDIOS users. The first one was created on September 17, 2006, and focuses on people talking and asking Erin questions, and she answers them. Since the thread series creation, it has garnered over 4,300 posts. There have been over 17,400 views. The thread series is located in
Your Community Office
.

Some of the more notable members to support her threads are Phil, Frankie, Murray, and Omar.
The Trip
On December 13, 2009, Erin's question thread made notable AJM History, when she, Omar, Dr. Belch, and Murray made a road trip from Seattle, Washington south to Coos Bay, Oregon. They then made their way to Reno, and back to Seattle with various stops along the way. It brought back the same unity many AJM members talk about from the 2005-2006 years.
The vacationers rented a Dodge Sprinter van from the AJM STUDIOS Motor Pool and drove first to Coos Bay, Oregon were they camped on the beach. They also explored the downtown. After a few days there, the group drove to Reno, Nevada and explored the city. Omar notably won $500 dollars at the tables while Erin and Murray tried to figure out what to do at a slot machine. After that, they drove north through Idaho and turned west back to Seattle, Washington The trip lasted about a week and a half.
Ad blocker interference detected!
Wikia is a free-to-use site that makes money from advertising. We have a modified experience for viewers using ad blockers

Wikia is not accessible if you've made further modifications. Remove the custom ad blocker rule(s) and the page will load as expected.