Ad blocker interference detected!
Wikia is a free-to-use site that makes money from advertising. We have a modified experience for viewers using ad blockers

Wikia is not accessible if you've made further modifications. Remove the custom ad blocker rule(s) and the page will load as expected.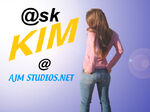 Ask Kim Threads are popular among
AJM STUDIOS
users. The first one was created on June 12, 2005, and focuses on people talking and asking Kim questions, and she answers them. Her question thread has been known for being far more personal and giving well thought out questions, far more then other question threads. It is located in the
Your Community Office
section of
AJM STUDIOS.NET
. Her room is located in the
AJM STUDIOS Building
. She often offers people who visit her snacks.
The thread is known for it's use of the @ symbol used commonly for email addresses.
Reception
The overall reception for the Ask Kim series has always been high, but reeption got even higher in 2009 and 2010, when people began to notice the quality of her answers to people's questions. It became apparent that by far, Kim's answers to people's questions were highly detailed, and thought out. It became known as a very personal question thread, which placed it apart from other question threads, especially during early 2010 which followed more of a chat sequence. Ask Kim also allowed talking and chats, but it was still by far more down to earth and personal.
Stats
Since the thread series creation, it has gathered over 2,300 posts. There have been over 14,000 views to her threads. The thread series is located in Your Community Office.