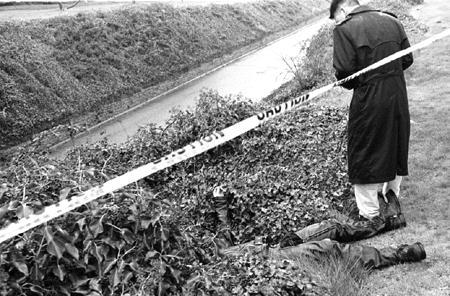 ---
Na noite de 19 de Março de 2006, o casal de reitores Timothy Allingham e Ethel Lina Allingham saiu para o passeio diário que davam, porém nunca retornaram. Seus corpos foram achados no dia da Competição Anua de Corrida de Vassoura.
Tim estava próximo o canal leva água do Lago de Gelo até o Poço atrás do Jardim dos Bem-Vindos, e Ethel boiando no lago. Foi imediatamente chamado os Apaziguadores para investigação do caso. Um legista verificou os reitores ainda mesmo na cena do crime, e não conseguiu definir que maldição foi usada no assassinato. Só sabe que a pele dos reitores estava muito pálida, mas lábios, nariz e pontas dos dedos tinham um tom azulado. Enquanto outras partes como cotovelo, barriga, pernas pareciam estar queimadas. As irias dos olhos estavam extremamente dilatadas, mas não havia brilho na pupila. Os corpos estavam extremamente rígidos, e havia cristais de gelo dentro da boca.
O único suspeito foi o Zelador Rudolf Reimer Gabrielsson, chegou ser levado para prisão, no entanto por falta de provas foi solto. Atualmente, ele trabalha como vendedor na Hilf, a loja botânica da Ruvkegilli.
Os apaziguadores ainda estão investigando, e até julho chegaram entrevistar todos os professores, funcionários e alguns alunos. No entanto, não conseguiram nenhuma prova. O pessoal da apaziguador cientifica, a Hagar, tem apenas em seu banco de provas, dois par de pegadas de bota tamanho 40 diante dos mortos e nada mais (acreditando que o assassino aparatou), um traço energético que prova que foi usado um feitiço, e nada mais. Acredita que o Reitor Tim foi o primeiro à ser morto, a reitora Ethel ainda tenha corrido em fuga, mas não conseguiu escapar de seu assassino.
Todos os alunos, professores e funcionários ainda estão muito triste com o falecimento dos queridos reitores. E o antigo diretor de Hogwarts, Matt McGonagall e sua esposa, Meg McGonagall foram chamados para assumir a reitoria da Noskort.
Página Inicial

Ad blocker interference detected!
Wikia is a free-to-use site that makes money from advertising. We have a modified experience for viewers using ad blockers

Wikia is not accessible if you've made further modifications. Remove the custom ad blocker rule(s) and the page will load as expected.