The Asteroid Belt between the inner and outer planets of Earths star system are home to twelve outposts. There are three kinds of asteroid colonies.
First Type
The first type serves as a civilian outpost or a prison. Most of the civilian outpost on the asteroids usually have a population of five hundred individuals. Also, in the civilian outposts are schools, residentioal complexes, art centers, Hospitals and Bars. In the prisons, there are fighting rings where the prisoners battle each other for supremacy. Also, the prisoners are free to move around the compound.
Second Type
The second asteroid colony type serves as a mining facility.
Third Type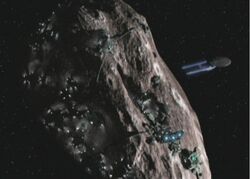 The third asteroid colony type also serves as a mining facility.