Babel (2006) at Wikia
---
[
]
Welcome to the Babel (2006) mini wiki at Scratchpad!
You can use the box below to create new pages for this mini-wiki.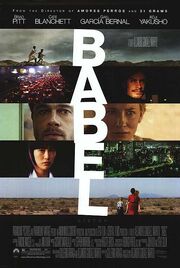 Babel is a 2006 Paramount Pictures and Paramount Vantage movie.
Parodies

 WARNING: You may add parodies. But, do NOT delete any. Complete parodies list
Trivia
This movie was released on DVD in February 20th, 2007, it has an Anti-DVD Piracy promo on the beginning of this opening.