Baby Einstein at Wikia
---
[
]
Welcome to the Baby Einstein mini wiki at Scratchpad!
You can use the box below to create new pages for this mini-wiki.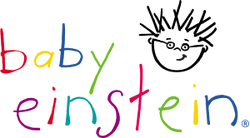 Baby Einstein
is a line of
multimedia
products and
toys
that specialize in interactive activities for
preschool
viewers aged 4 years old and younger. Subjects music, art, language, science, and mathematics are prominently explored. These products are currently made by a division of the
Walt Disney Company
, marketed under the
slogan
, "Great minds start little". The Baby Einstein Company pays a significant amount of money to
Corbis
, on behalf of the estate of renowned physicist
Albert Einstein
, for the use of the Einstein name, though the products have virtually nothing to do with Einstein or his work (however, Disney uses a disclaimer that Einstein is a trademark of the
Hebrew University of Jerusalem
[1]
).
Baby Einstein/ Character Gallery
Parodies

 WARNING: You may add parodies. But, do NOT delete any. Complete parodies list
See also
References