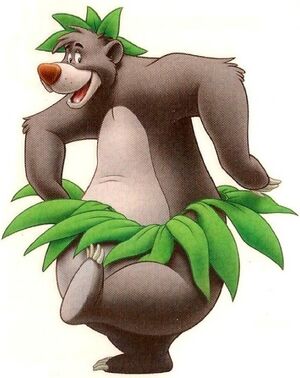 Baloo
is the deuteragonist from the 1967 Disney film,
The Jungle Book
, as well as its 2003 sequel,
The Jungle Book 2
.
He is the main protagonist of the Talespin cartoon series, which is set in an alternate continuity.
In the 1967 film, he was voiced by Phil Harris. In Talespin, he was voiced by Ed Gilbert. In The Jungle Book 2, he was voiced by John Goodman.
Counterparts (The Jungle Book Version)
Counterparts (Talespin Version)
Gallery
Ad blocker interference detected!
Wikia is a free-to-use site that makes money from advertising. We have a modified experience for viewers using ad blockers

Wikia is not accessible if you've made further modifications. Remove the custom ad blocker rule(s) and the page will load as expected.