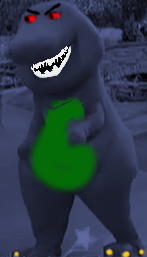 Barney's Evil Double is a fan made character and evil twin of
Barney
in Barney and Friends.
Counterparts
Evil Thomas, Evil Gordon, Evil Henry, Evil BoCo, or Diesel (Thomas the Tank Engine and Friends)
DoodleBob (SpongeBob SquarePants)
Metal Sonic (Sonic the Hedgehog)
Devil Kazuya or Devil Jin (Tekken)
Evil Ryu (Street Fighter)
IMustDestroyAll or Michael (Neighbor) (Angry Grandpa,the latter is a fan-made)
Slash (Teenage Mutant Ninja Turtles)
Stan's Evil Clone (South Park)
Gallery
Ad blocker interference detected!
Wikia is a free-to-use site that makes money from advertising. We have a modified experience for viewers using ad blockers

Wikia is not accessible if you've made further modifications. Remove the custom ad blocker rule(s) and the page will load as expected.