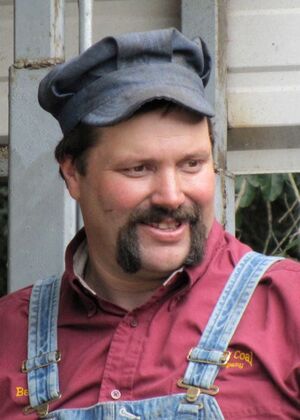 Byron "Barney" Gramling started volunteering at the Little River (tourist) Railroad with his grandfather when he was 12 years old. By age 14, he was running Little River's #110 for passenger excursions and had completed his first major restoration project - rebuilding a 1942 Fairmount motorcar. He has worked for numerous shortline railroads as mechanic or engineer; was an engineer on Amtrak passenger routes between Chicago and Pittsburgh and Buffalo; and was Chief Mechanical Officer at Steam Railroading Institute, overseeing $250,000 of work to return Pere Marquette 1225 to top running condition. In addition to working on GLW restoration projects, Barney is currently working as a mechanic at Chicago, Fort Wayne & Eastern railroad.
Ad blocker interference detected!
Wikia is a free-to-use site that makes money from advertising. We have a modified experience for viewers using ad blockers

Wikia is not accessible if you've made further modifications. Remove the custom ad blocker rule(s) and the page will load as expected.