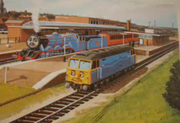 Barrow-in-Furness is a town in England. The North Western Railway has had running powers into Barrow Central station since an agreement with the LMS Railway in 1925. For "through" trains, North Western Railway engines are detached and BR or Other Railway engines take over. Since 1925, the North Western Railway has also had a shed, turntable and servicing facility here. There is also a joint goods yard for exchange traffic.
In real life, Barrow Central is the local station though now just called Barrow, but it does not have a line running to the Isle of Walney, which was "replaced" by Sodor in the maps of the island.
Ad blocker interference detected!
Wikia is a free-to-use site that makes money from advertising. We have a modified experience for viewers using ad blockers

Wikia is not accessible if you've made further modifications. Remove the custom ad blocker rule(s) and the page will load as expected.