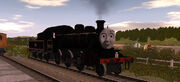 Barry, named after Barry Island, the home of the scrapyard in South Wales where he was rescued, was a potential character for the Railway Series. He was to first appear in the cancelled book, Barry the Rescue Engine - which was initially thought to be the thirty-ninth volume of the Railway Series.
It has since been revealed by Christopher Awdry that the book had been created in the 1980s and the engine similar to Wilbert was a different one altogether.
Parodies
Gallery
Ad blocker interference detected!
Wikia is a free-to-use site that makes money from advertising. We have a modified experience for viewers using ad blockers

Wikia is not accessible if you've made further modifications. Remove the custom ad blocker rule(s) and the page will load as expected.