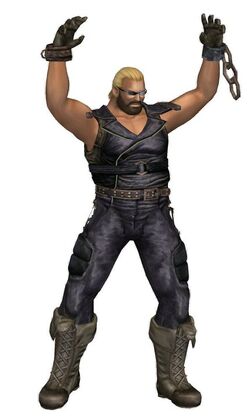 Bass Armstrong is a one of the Dead or Alive characters.
He is a professional wrestler. He is also a father of Tina Armstrong.
Counterparts:
Henry (Thomas the Tank Engine and Friends)
Warrior (TUGS)
Diddy Kong or Chunky Kong (Super Mario Bros.)
Blubber Bear (Wacky Races)
Henry the Octopus (The Wiggles; both share the same name) 
Rex (Toy Story 1, 2, and 3; both green)
Gutsman (Megaman)
Ad blocker interference detected!
Wikia is a free-to-use site that makes money from advertising. We have a modified experience for viewers using ad blockers

Wikia is not accessible if you've made further modifications. Remove the custom ad blocker rule(s) and the page will load as expected.