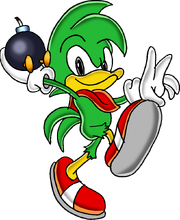 Bean the Dynamite
is a character from
Sonic the Hedgehog
. In Archie, he is a prankster and mercenary who loves bombs, but is in fact compassionate to Sonic and co. In Fleetway, he is much more vicious and vile, luring tourists to their deaths.
Counterparts
Counterparts (Fleetway Version)
Freaky Fred (Courage the Cowardly Dog)
Occulous (Sklyanders)
Parodies
Ad blocker interference detected!
Wikia is a free-to-use site that makes money from advertising. We have a modified experience for viewers using ad blockers

Wikia is not accessible if you've made further modifications. Remove the custom ad blocker rule(s) and the page will load as expected.