Bear 
is a main protagonist from
Bear in the Big Blue House
.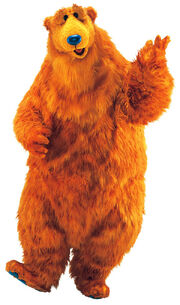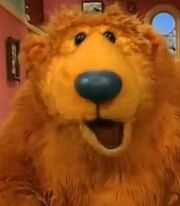 Counterparts
Thomas (Thomas the Tank Engine and Friends)
Ten Cents (TUGS/Salty's Lighthouse)
Brother Bear (The Berenstain Bears)
RS Mr. Conductor (Shining Time Station)
Mario (Super Mario Bros.)
Sonic (Sonic the Hedgehog)
Mickey Mouse (Mickey Mouse)
Winnie the Pooh (Winnie the Pooh)
Arthur Read (Arthur)
The Cat in the Hat (Dr. Seuss)
Pikachu or Ash Ketchum (Pokemon)
Kirby (Kirby)
Barney (Barney and Friends)
Big Bird, Ernie or Elmo (Sesame Street)
Kermit the Frog or Gonzo the Great (The Muppet Show/Kermit's Swamp Years)
Jerry Mouse (Tom and Jerry)
Bugs Bunny (Looney Tunes)
Sportacus (Lazytown)
Bowser Jr. Or Toad (SuperMarioLogan)
Sawtooth (Wacky Races)
Orson (Garfield and Friends)
Aladdin (Aladdin)
Link (The Legend of Zelda)
Lumiere (Beauty and the Beast)
Tarzan (Tarzan)
Wilson (Chugginton)
Bob the Tomato (VeggieTales)
Sparkster (Rocket Knight Adventures)
Croc (Croc)
Pac-Man (Pac-Man)
Rocky (Chicken Run)
Billy Biggle (Kidsongs)
Tom (Talking Friends)
Toaster (The Brave Little Toaster)
Pete (Pete's Dragon)
Taran (The Black Cauldron)
Br'ere Rabbit (Song of the South)
SpongeBob SquarePants (SpongeBob SquarePants)
Homer Simpson or Bart Simpson (The Simpson's)
Tommy Pickles (Rugrats)
Arnold (Hey Arnold)
Henry (Kablam!)
Doug Funnie (Doug)
Ad blocker interference detected!
Wikia is a free-to-use site that makes money from advertising. We have a modified experience for viewers using ad blockers

Wikia is not accessible if you've made further modifications. Remove the custom ad blocker rule(s) and the page will load as expected.