Beastmen of Mars is an adventure supplement detailing a journey from the British city of Syrtis Major to the High Martian Kraag of Barrovaar, the home of the King Hattabranx. Designed to be completed over five sessions, it introduces the characters to one of the greatest threats that the British Colonies faces.
In Game Designers' Workshop's own words - When a famous archaeologist thinks he can find artifacts of ancient Martians in High Martian kraags, he is met with criticism. "Artifacts among the beastmen! May as well be buried forever!" But rumors encourage him to mount an expedition which the marauding beastmen send into great peril. Only upon reaching their destination will the humans discover the hidden reality of the kraag, a conclusion more terrible than anyone could imagine.
Publishing History
Beastmen of Mars (GDW/HG 1902)
---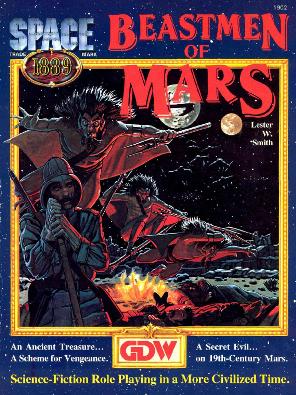 Beastmen of Mars has been published twice.
Contents
Beastmen of Mars is divided into five episodes (An Inauspicious Beginning,A Trip by Canal, An Overland Trek, Captives of the Beastmen and Guests of the Worm Lord) and includes additional information in the form of an Introduction and a Synopsis.
Links
The Heliographic Incorporated combined edition of Beastmen of Mars supplement and Canal Priests of Mars is available for purchase online via the Heliographic Incorporated website or Amazon.com.
Ad blocker interference detected!
Wikia is a free-to-use site that makes money from advertising. We have a modified experience for viewers using ad blockers

Wikia is not accessible if you've made further modifications. Remove the custom ad blocker rule(s) and the page will load as expected.