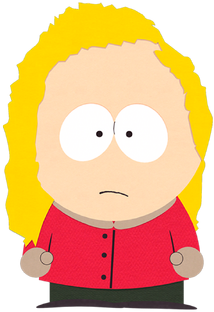 Bebe Stevens is Wendy Testaburger's Best Friend in South Park. In South Park Sticks Of Truth, She took the role as the Second of Command of the Girls.
Counterparts

 WARNING: You may add appropriate counterparts. But, do NOT delete any.
Mavis (Thomas & Friends)
Sally Seaplane (TUGS)
Princess Daisy (Mario)
Bunnie Rabbot or Cream The Rabbit (Sonic)
Pasadena O'Possum (Crash Bandicoot)
Libby Volfax (Jimmy Neutron)
Jillian (Family Guy)
Lindsay, Dakota or Jasmine (Total Drama)
Candace Flynn (Phineas and Ferb)
Lupe (Fanboy & Chum Chum)
Numbuh 5 (Codename: Kids Next Door)
Dinah Doll (Noddy's Toyland Adventures)
Helga (Hey Arnold)
ryuuko matoi (kill la kill)
See also
Ad blocker interference detected!
Wikia is a free-to-use site that makes money from advertising. We have a modified experience for viewers using ad blockers

Wikia is not accessible if you've made further modifications. Remove the custom ad blocker rule(s) and the page will load as expected.