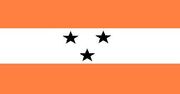 Begonia
is the most northwestern country of the southern continent of the
Nation Song Contest
. The capital is called Kargana.
It belongs to the five debutants in the fifth version of the NSC.
Begonia at NSC and NSC-spinoffs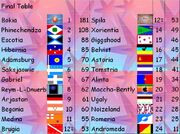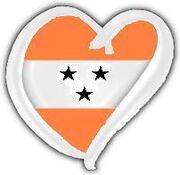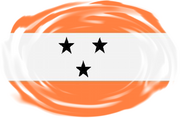 NSC 1 - NSC 4
No participation
NSC 5
Begonia will debut at the 5th version of the NSC in Hibernia's capital Clonalagh. The first entry was chosen internally by a jury. And they decided that it's time for the moldovan band Zdob si Zdub with their song ,,Miorita´´ to represent the debutant: Click. They have reached the 10th place with 60 points from Astoria, Xorientia, Spila, Ugaly, Alinta, R.L.D., Belvist, Noizeland, Phinechendza and Andromeda, you can read the exact result on the right.

That's how Begonia voted:

Exact voting results:
12 Bokia 2'877'343
10 Gabriel 1'333'865
08 Hibernia 1'289'063
07 Giggshood 870'365
06 Alinta 657'773
05 Arjastan 644'548
04 Phinechendza 488'602
03 Adamsburg 441'775
02 Romeria 419'877
01 Noizeland 399'176
Belvist 355'655
Xorientia 338'552
Andromeda 312'777
Reym-L-Dneurb 310'774
Machha-Bently 303'055
Medina 285'473
Tomstria 218'536
Escotia 217'779
Brugia 201'563
Ugaly 134'666
Saksjaowie 118'465
Astoria 93'664
Spila 67'873
NSC 6
According to the 10th place in NSC 5 Begonia won't have to compete in semifinal of NSC 6.
Begonia is planning a national final with a very easy modus: Every 12 provinces sends a song to the national broadcaster BTV 1 so that 12 songs are competing. The national final will be called Begopesma 6 (Begopesma 7 for NSC 7 and so on....). It will probably take place at 28th May.
And the best 4 songs had the same plenty of votes that there's no really winner!:
Preslava - Finalni Dumi (876'336)
Christina Stürmer - Vorbei (876'336)
Saša Lendero - Ne grem na kolena (876'336)
Ivana Banfić - Lav u srcu (876'336)

There fore there will be a national final in the esctoday-forums:
Result of the voting in the esc-today forums:
4 Preslava - Finalni Dumi (= 5 points)
3 Saša Lendero - Ne grem na kolena (= 3 points)
3 Christina Stürmer - Vorbei (= 3 points)
2 Ivana Banfić - Lav u srcu (= 1 point)
Result of the televoting:
448'664 Saša Lendero - Ne grem na kolena (= 5 points)
415'654 Preslava - Finalni Dumi (= 3 points)
377'555 Christina Stürmer - Vorbei (= 2 points)
167'808 Ivana Banfić - Lav u srcu (= 1 point)
Jury's votes:
5 Christina Stürmer - Vorbei (= 5 points)
2 Preslava - Finalni Dumi (= 2 points)
1 Ivana Banfić - Lav u srcu (= 1 point)
->
Final result:
11 Saša Lendero - Ne grem na kolena
10 Preslava - Finalni Dumi
10 Christina Stürmer - Vorbei
3 Ivana Banfić - Lav u srcu
-> Saša Lendero will represent Begonia with 'Ne grem na kolena' at NSC 6! You can listen to the song here.
Saša's tour
Saša Lendero decided to take a tour through the NSC world to promote the Begonian song vor NSC VI in Bokitown. She has started her tour today and the first country she's going to visit is Cicvara. The tour will end at Friday in Bokia, where she will give a little concert before her performance at the NSC final.
Her schedule:
Friday (1.6.): Cicvara & Rotterdamus
Saturday: Belvist & Altharia
Sunday: U.S. of Carmen & Lolee
Monday: Yaponesia & Lost Isle & Hibernia
Tuesday: Xorientia & Adamsburg
Wednesday: Instir & Romeria
Thursday: The tour must be cancelled due to the new date of the final which is Thursday. Saša Lendero will go on from Romeria's capital straight to Bokia.
Results
Saša Lendero recieved the satisfying ninth place with 105 points. Therefore she was honoured by the Begonian president Alf Poier. Particularly Begonia was in the top of the scoreboard and one time even the first. But - as in NSC 5 - Begonia crashed down a bit.
Nevertheless the folks is happy and Begonia won't see the semifinal in NSC 7 again (actively seen).
And special thanks to....
12 points:
10 points:
Rotterdamus
08 points:
Yaponesia
07 points:
05 points:
04 points:
03 points:
02 points:
01 point:
Begonia votes (Semifinal)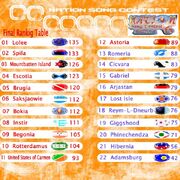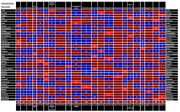 Begonia votes (final)
NSC 7
Due to Saša Lendero's 9th place in Bokitown (Bokia) Begonia won't have to compete in the semifinal (again).
Wednesday evening a national final to decide the Begonian entrant for NSC 7 has been started (Link), the competing songs are:
Desperado - Táncolj
Mando Diao - Down in the past
Metallica - Nothing else matters
Alyona Ivancova - Yezgir indz hamar
Billy Talent - Red Flag
The results are:
7 Metallica - Nothing else matters
5 Billy Talent - Red flag
3 Mando Diao - Down in the past
3 Desperado - Táncolj
0 Alyona Ivancova - Yezgir indz hamar
Combined with the televotings Metallica is the winner with 130 points and their song 'Nothing else matters' you can listen to here. They are going to do a promo tour which guide you can see on your left.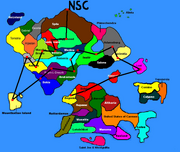 Schedule:
Wednesday: Belvist, Hibernia, Lost Isle
Thursday: Xorientia, Adamsburg, Instir
Friday: Medina, Romeria, Andromeda
Saturday: Reym-L-Dneurb, Bokia, Mountbatten Island
Sunday: Ugaly, Astoria, Maccha-Brugia
Monday: Venera, Saksjaowie, Giggshood
Tuesday: A little concert in Spila, after that Metallica will stay in a suburb of Carine City before their big performance in the NSC final
---
Statistics
Achievments
NSC 1 - NSC 4: No participation
NSC 5: Zdob si Zdub - Miorita (10th place with 60 points)
NSC 6: Saša Lendero - Ne grem na kolena (9th place with 105 points / FINAL)
NSC 7: Metallica - Nothing else matters (xx points with yy points / FINAL)
Points awarded
22 points: Instir, Mountbatten Island
16 points: Bokia, Maccha-Brugia
12 points: Giggshood
10 points: Gabriel
09 points: Phinechendza, Adamsburg
08 points: Hibernia
07 points: Reym-L-Dneurb, Lolee, Cicvara
06 points: Alinta, Belvist
05 points: Arjastan, Lost Isle
02 points: Romeria, Noizeland, Maccha-Bently
01 point: Rotterdamus
______________________________________
= 116 points (final) = 58 points (semifinal)
Points recieved
17 points: Xorientia
15 points: Noizeland
13 points: Astoria
12 points: Gabriel, Escotia, Ugaly
10 points: Rotterdamus
08 points: Spila, Reym-L-Dneurb, Yaponesia, Belvist
07 points: Alinta, Instir
05 points: Lolee, Saksjaowie
04 points: Maccha-Brugia
03 points: Lost Isle, Phinechendza, Sunland
02 points: Adamsburg, Bokia
01 point: Andromeda
______________________________________
= 165 points
NSC ESC 1
The first edition of a kind of NSC with only songs from the ESC was held at 18th Juny in Spila. Begonia tried their luck with the spanish representative of 2003: Beth - Dime (YT-Link).
She's ended up as 9th with juries just as Saša Lendero did it at the sixth edition of NSC. You can see the exact results on the right site.
NSC ESC 2
Begonian entrant:
Anjeza Shahini - Image of you (Albania 2004)
History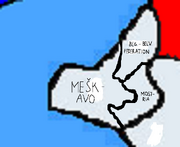 Foundation in 1908
Begonia was pieced together on 23th March 1908 from three small states called Meškavo, Mostria and Begonian-Belvistian federation. Each of these three states has a black star in the contemperary begonian flag.
The CBP's dictatorship
11 years after the foundation of the begonian state, the so-called CBP, Communistic Begonian Party came to absolute government power. The main reasons were the general dissatisfaction of the begonian population and the weak presidents in the past, who only could make clear laws in patches. 1916 1,7% of the begonian population voted for the CBP, but two years later it was about 68% and 1919 83,4%. The CBP's aims were the disipation of andromedian, bokian and belvistian emmigrants and the conquest of new regions in the south-east and east. The CBP used hardest brutality to reach their aims. The soldiers were educated very strictly and religiously. It was a dark aeon in the begonian history at all. The claims of the population were scarily low and the economy depended on the result of the imminent war, which passed off completely against the CBP's plans and aims. The so-called Miembrian War (1928–1933) forced the death of 2700000 humans: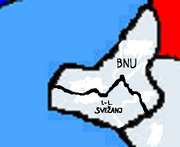 800000 belvistian emmigrants
750000 bokian emmigrants
about 700000 begonian soldiers
300000 andromedian emmigrants
and other people, mainly voluntary soldiers
Begonia's degradation
After that the country's economy and justice were completely on the bottom. There fore it was very easy for the Meškavarians, Kalaskums and Palađurians, to break away from Begonia and found their own state, which was called Infereda-labskanji svežanj (1934). The other provinces founded the BNU (Begonski narodni udruga). Then the economy of both countries boomed and the population was more satisfied than ever.
The new begonian foundation
But a certain dependence between the Infereda-labskanji svežanj and the BNU occurred because of row material. Then both countries saw no plausible reason to go on as independent countries and therefore the Infereda-labskanji svežanj and the BNU affiliated to Begonia (23.3.1974). And that's why the 23rd March is the begonian national day. But long-dated seen, the economy moved against bottom again.
A new capital
Till 1961 Fođoladi was the begonian capital, which is still today the capital of the province Mostria. After that Kargana, which has more inhabitants than Fođoladi by far, was voted to the new begonian capital. Then riots and uproars ocurred in Mostria and the police had to interfere very brutally and 723 humans died at this day.
Better times are breaking on
In the following years Begonia was overshadowed by riots, uproars and terroristic attempts by mysterious humans from un-populated countries again and again. The living standard had been very low, til Alf Poier plucked up courage: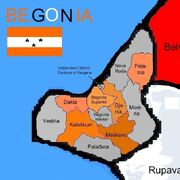 Being 28 years old he observed the ,,events'' in Begonia as a rich salesman living in Bokia and decided to improve the Begonian economy with his party, the APP (Alf Poier Party) and to let better times break on in Begonia. He was admitted very ceremoniously of course and it was very easy for him to get the power in the government. And actually he kept his promise, in Begonia a new aeon of modernization brake on. Before Alf Poiers takeover on 6th June 1993 almost nobody had internet or a TV, even the half country had no drinking water. The wages boomed and the conjuncture oozed self-confidence: Begonia booms.
Unfortunately Alf Poier didn't want to see Begonia competing in NSC, because he thought, that NSC is a competition with much cheating, where every neighbour countries would give 12 points each other. But Begonian NSC fans told him that he is completely wrong and changed his opinion and so we will see Begonia for the first time at NSC.
About Begonia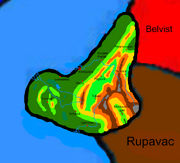 Population: 13350000
Acreage: 95300 km
P./A.: 13350000/95300 = 140 inhabitans/km
Capital: Kargana (2,2 mio. inhabitants)
Languages: Begonian, Belvistian
BSP/inhabitant: 17300 $
Valuta: 1 Bego = 100 Cents
Countries' structure
Population: 12,8 Mio. Begonians, 300000 belvists, 100000 bokians, 80000 andromedians, 20000 noizelanders, 50000 others
Poverty level (2005): 3,2%
Life expentancy: 75,3 years (men), 78,7 years (women)
Infant mortality: 0,2%
Child mortality: 0,3%
Yearly population growth (1980-2007): 1,9%
Illiteracity: 0,8%
Religion: 97% catholics, 2% orthodox, 1% others
Urban population: 52%
Provinces
Nova Ruda: 800000 inhabitants, capital: Borgata Rekati (inh.: 230000)
Pelania: 600000 inh., cap.: Pelanskograd (180000)
Mostria: 1700000 inh., cap.: Fođoladi (730000)
Djania: 500000 inh., cap.: Pogborili (210000)
I.D.C. of Kargana: 2200000 inh. (2200000)
Meškavo: 1100000 inh., cap.: Meškavskograd (280000)
Begonia Superior: 450000 inh., cap.: Razvi (105000)
Begonia Inferior: 600000 inh., cap.: Tókodi (80000)
Dakia: 800000 inh., cap.: Lembékles (185000)
Kalaskum: 900000 inh., cap.: Krátanai (275000)
Vestria: 2300000 inh., cap.: Fonšeski (630000)
Palađura: 1400000 inh., cap.: Ijaždama (350000)
Rivers
Rijeka Begonska (1075km)
Klavašta (822km)
Prizmenal (738km)
Njérgošti (603km)
Mountains
Monte Kantar (3376m)
Beredskin (2783m)
Pílakat (2578m)
Bardmádi (2359m)
Areskata (2167m)
Languages
Begonian + Begonian dialects (92%)
Belvistian (5%)
Bokian (1,5%)
Andromedian (0,6%)
others (0,9%)
Climate
In Januar
Average tempertaures:
Borgata Rekati: 4,5°C
Kargana: 5,4°C
Meškavskograd: -3,1°C
Ijaždama: 7,8°C
In July
Average temperatures:
Borgata Rekati: 21,2°C
Kargana: 22,6°C
Meškavskograd: 20,7°C
Ijaždama: 26,1°C
Links
Ad blocker interference detected!
Wikia is a free-to-use site that makes money from advertising. We have a modified experience for viewers using ad blockers

Wikia is not accessible if you've made further modifications. Remove the custom ad blocker rule(s) and the page will load as expected.