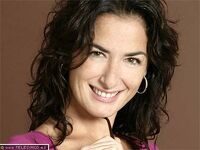 Belén López es una actriz revelación en España. Además tiene carrera como cantante de flamenco en el conjunto "Los rayo y los Trueno".
Trayectoria
Comenzó con pequeños papeles en algunas películas y series, pero con el paso de los años ha ido subiendo de importancia en las historias que actúa.
Su reconocimiento público llegó con Motivos Personales, donde encarnó a la irónica y alegre Maite, cuyo papel tenía en sus hombros ser el apoyo de Natalia Nadal y además aportar una cuota de humor al estar constantemente atacando a su compañera de trabajo Isabel Tejero.
El 2006 fue una de las protagonistas de la película "La distancia", papel que le valió una nominación a "Actriz revelación" de los premios de la Unión de actores.
Filmografía en foronovelas
Senoi (2007) Lina Estévez (en producción)
Enlaces
Ad blocker interference detected!
Wikia is a free-to-use site that makes money from advertising. We have a modified experience for viewers using ad blockers

Wikia is not accessible if you've made further modifications. Remove the custom ad blocker rule(s) and the page will load as expected.