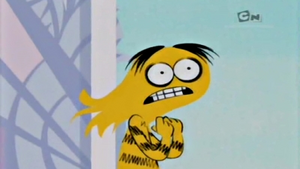 Bendy
is the name of an imaginary friend on the show
Foster's Home for Imaginary Friends
, and only being in one episode to date, namely
Everyone Knows It's Bendy
He was bought to Foster's when he kept missbehaving around his creator's house. However, once he was at Foster's and no one was around, he started to missbehave, causing Bloo to get into trouble, when he was trying to prove Bendy wrong.
However, later on the episode, Bloo devised a plan to bust Bendy, which turned out to work, with one of the bathrooms to be completely destroyed and him being caught by Mr. Herriman.
Counterparts

 WARNING: You may add appropriate counterparts. But, do NOT delete any.
Ad blocker interference detected!
Wikia is a free-to-use site that makes money from advertising. We have a modified experience for viewers using ad blockers

Wikia is not accessible if you've made further modifications. Remove the custom ad blocker rule(s) and the page will load as expected.