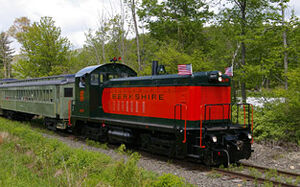 Experience a side of the Berkshires that you won't see from your car. Our 90 minute, 20 mile roundtrip excursion between the picturesque towns of Lenox and Stockbridge is an entertaining and educational experience for the whole family. During your excursion in our restored 1920's passenger cars hauled by vintage diesel-electric locomotives, you'll learn about the region's rich industrial origins and discover the natural scenic beauty found along the Housatonic River. Our trains depart from the restored 1903 Lenox Station. At Lenox, find exhibits about railroading including Yokun Block Station, featuring working vintage railroad equipment and visit our museum store.
Locomotives
Diesel locomotives replaced steam in America in the period following World War II. The Berkshire Scenic Railroad Museum has several examples of vintage diesel-electric locomotives from a variety of builders.
Passenger Cars
Riveted steel passenger cars carried the travelling public from the World War I era long into the 1970s on some secondary routes. Our fleet of vintage heavyweight passenger cars has a long and varied history, tracing their roots to New Jersey and beyond.
Miscellaneous Equipment
Ad blocker interference detected!
Wikia is a free-to-use site that makes money from advertising. We have a modified experience for viewers using ad blockers

Wikia is not accessible if you've made further modifications. Remove the custom ad blocker rule(s) and the page will load as expected.