Bert is a character from Sesame Street. He was originally voiced by Frank Oz and is currently voiced by Eric Jacobson. Oz still performs him occasionally.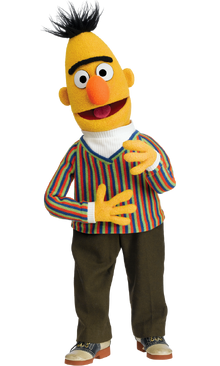 Counterparts

 WARNING: You may add appropriate counterparts. But, do NOT delete any.
Schemer or Mr. Nicholas (Shining Time Station)
Oogtar, Waluigi, or Luigi (Super Mario Bros.)
Roy or Edward R. Furrow (Garfield and Friends)
TV Puppet Pal Mitch (Dexter's Laboratory)
Ed Crosswire, Binky Barnes, or David Read (Arthur)
Jeffy, Chef Pee Pee, Mario, Mr Steinback, Bowser, or Bowser Junior (SuperMarioLogan)
Ferb Fletcher (Bert suits Ferb, because they're both taller than their sidekicks), Jeremy Johnson, Albert Du Bois, or Lawrence Fletcher (Phineas and Ferb)
Cosmo, AJ, Remy Buxaplenty, or Timmy's Dad (The Fairly OddParents)
Blooregard "Bloo" Q. Kazoo, Ivan, or Wilt (Foster's Home for Imaginary Friends)
Eric Cartman, Kyle Broflovski, or Randy Marsh (South Park)
Kevin, Eddy or Edd (Ed, Edd, n Eddy)
Mr. Potato Head or Slinky Dog (Toy Story)
Benson or Muscle Man (Regular Show)
Emery or Hodge (Chuggington)
Skatch the Dumper or Kevin The Crane (Construction Site)
Anna (Frozen)
Parodies

 WARNING: You may add parodies. But, do NOT delete any. Complete parodies list
Gallery
See also
Ad blocker interference detected!
Wikia is a free-to-use site that makes money from advertising. We have a modified experience for viewers using ad blockers

Wikia is not accessible if you've made further modifications. Remove the custom ad blocker rule(s) and the page will load as expected.