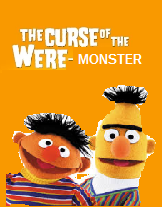 LegalizeAnythingMuppets's movie-spoof of "Wallace and Gromit: The Curse of the Were-Rabbit:
Cast
Wallace - Bert (Sesame Street)
Gromit - Ernie (Sesame Street)
Lady Tottington - Sam Sparks (Cloudy with a Chance of Meatballs)
Victor Quartermaine - Shaw (Open Season)
Philip - Scud (Toy Story)
Reevrend Hedges - Krisoff (Frozen)
PC Mackintosh - The Grand Duke (Cinderella)
Mr. Mulch - Flynn Rider (Tangled)
Mrs. Mulch - Rapynzel (Tangled)
Mr. Growbag - Carl Fredrickson (Up)
Hutch - Emile (Ratatouille)
Were-Rabbit - Sulley (Monsters, Inc.)
Rabbits - Mice (Cinderella)
Ad blocker interference detected!
Wikia is a free-to-use site that makes money from advertising. We have a modified experience for viewers using ad blockers

Wikia is not accessible if you've made further modifications. Remove the custom ad blocker rule(s) and the page will load as expected.