Piplup
(Bian)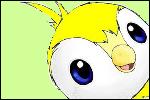 Desempenho
Lutas Oficiais
2
Vitórias
0
Derrotas
2
Aproveitamento
0%
Associado(a) à:
nada

Bian, the Yellow Piplup, ou apenas Bian foi um dos participantes do Blast Battle.
História
Pré Blast Battle
Bako participante do Blast Battle III, mais tarde voltou como Bian, um Piplup amarelo. Durante algum tempo passou por variações entre Bako e Bian em alguns amistosos do Blast Battle. As inscrições para o quarto torneio foram abertas, e Bian se inscreveu. Quase não foi selecionado para participar por ser considerado noob por alguns, além de ter desavenças com alguns participantes como Plusle e outros.
Blast Battle IV
Bian foi selecionado para o torneio e foi um dos primeiros a serem sorteados. Sua luta era contra Nyno Luxary, que apesar de ser o favorito, não era tanta vantagem, pois Nyno tinha fama de não terminar as lutas, ou demorar muito em um round. Houve surpresa das duas partes: Nyno lutou bem como nunca, e Bian melhorou muito depois do terceiro torneio. Com resultado de Mr. Briney, Bian perdeu, mais somou 80 pontos de um total de 100, o que é considerado alto. O Torneio não acabou por aí para Bian, ele foi selecionado para a repescagem, e hoje disputa uma demorada luta contra Medicham, outro repescado. Bian evoluiu de Piplup para Prinplup, mas acabou desistindo da luta. por motivos que ainda não foram exclarecidos, talvez tenha sido a pressão da parte de Plusle, ou talvez não tinha nenhuma chance sólida de vencer.
Rodapé
Ad blocker interference detected!
Wikia is a free-to-use site that makes money from advertising. We have a modified experience for viewers using ad blockers

Wikia is not accessible if you've made further modifications. Remove the custom ad blocker rule(s) and the page will load as expected.