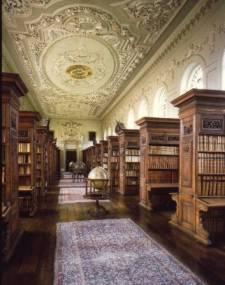 ---
A Biblioteca ocupa boa parte da Ala Oeste, é um gigantesco corredor com uma fileira de estantes de cada lado. Os livros estão separados por estilo ou disciplina, e pelo nome do autor nas prateleiras. No meio deste corredor existem oito grandes globos do planeta, quatro deles indicam onde alunos da Centaur, alunos da Sphinx, professores e funcionários nasceram. Nos outros quatro indica onde eles estão no exato momento.
Uma pequena escada de metal em caracol leva para ala exclusiva, reservada apenas aos professores. Lá se encontram livros que já existem à mais de mil anos.
Logo ao lado da entrada tem o balcão do Redav Htrad, o duende bibliotecário. Assim como a saleta que ele usa como escritório e casa.
Finalidades
Consulta
Os alunos têm livre acesso às estantes. As dificuldades no tocante à localização de livros serão resolvidas com o auxilia do bibliotecário. Todo material utilizado em consulta ou pesquisa será depositado no local indicado.
Empréstimo
Para os alunos serão emprestados até 3 livros, por 7 dias, com direito à renovação do empréstimo, caso não haja reserva por outro aluno. O atraso na devolução do material resultará em multa por volume e dia corrido. O aluno perderá o direito de solicitar empréstimo, caso atrase por duas vezes a devolução.
Empréstimo interbibliotecas
É o que se realiza através de convênios com as bibliotecas da Durmstrang e Der Burchtzwart. A solicitação de livros será feita no Formulário de Empréstimo, devidamente preenchido, carimbado e assinado pelo Bibliotecário.
Acervo
Página Inicial | Estrutura

Ad blocker interference detected!
Wikia is a free-to-use site that makes money from advertising. We have a modified experience for viewers using ad blockers

Wikia is not accessible if you've made further modifications. Remove the custom ad blocker rule(s) and the page will load as expected.