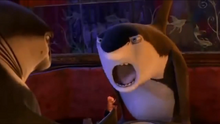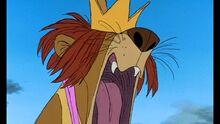 Big Word Shouts are as follows:
Owl (Little Brother Rat) - BUT I DON'T LIKE YOU
Andy Bovine (The Woods Are Full of Cuckoos) - HELLO, FOLKS
Gabby (Gulliver's Travels) - THE GIANT ON THE BEACH
Bugs Bunny (Buckaroo Bugs) - STINK, YOU FOOL, STINK
Tom Cat (Million Dollar Cat) - BUT I'M HAPPY
Angus MacBadger (The Adventures of Ichabod and Mr. Toad) - SILENCE
The Caterpillar (Alice in Wonderland) - THE MUSHROOM OF COURSE
Peter Pan - UNDERSTAND
Tramp (Lady and the Tramp) - I said A LOG PULLER
Elmer Fudd (What's Opera, Doc) - SMOG
Bagheera (The Jungle Book) - HALT
King Leonidas (Bedknobs and Broomsticks) - STOP THAT BALL
Scrooge McDuck (Sports Goofy in Soccermania) - And win back my TROPHY
Daffy Duck (Daffy Duck's Quackbusters) - CUBISH
Genie (Aladdin) - SIT DOWN
Pumbaa (the Lion King) - SHE'S GONNA EAT ME
Hubie (The Pebble and the Penguin) - SAY IT
Dixie (Balto) - DISPOSABLE
General Von Vultur (Daffy the Commando) - SCHULTZ
Goofy (A Goofy Movie) - WATERFALL!
Darla Dimple (Cats Don't Dance) - I hate ANIMALS
Hades (Hercules) - MERCHANDISE
Tigger (The Tigger Movie) - My real FAMILY
Patrick Star (SpongeBob SquarePants) - MY NAME'S NOT RICK
Shrek - OUTSIDE
Porky Pig (Kitty Kornered) - MEN FROM MARS
Buzz (Cyberchase: Crystal Clear) - Furious YES
Mr. Toad (The Wind in the Willows 1995) - And FASTER
Larry the Cucumber (The End of Silliness) - NOOOOO
Martha and Helen (Martha Speaks: Milo's Reading Buddy) - (Helen: MARTHA) WHAT
Dr. Dawson (The Great Mouse Detective) - THAT'S ENOUGH
Jiminy Cricket (Pinocchio) - QUIET
Reginald the Lion (64 Zoo Lane) - QUIET
Princess Fiona (Shrek) - NOW
SpongeBob SquarePants - Gary! You are gonna finish your dessert and you are gonna like it! 
Manny (Ice Age) - NOW SID
Diego (Ice Age) - MOVE SLOTH
Jonah (Jonah: A VeggieTales Movie) - STOP IT
Wakko Warner (Animaniacs) - CLOWN
Miguel (Maya and Miguel) - MAYA
Squidward Tentacles (SpongeBob SquarePants) - GO
Lenny (Shark Tale) - PUT THE SHRIMP DOWN
Mr. Grumpy (The Mr. Men Show) - THAT'S WAS BRAND NEW CEILING
Rabbit (The New Adventures of Winnie the Pooh) - I AM GOING TO TEACH THEM A LESSON!
Barney Bear (Sleepy Time Squirrel) - And GO TO SLEEP
Gremlin (Tiny Toons Adventure) - WHERE'S MY GOLD
Gingerbread Dad (AT&T Go Phone) - AW C'MON MAN, IT'S THE HOLIDAYS
Aviva Corcovado (Wild Kratts) - IT'S TO FIND THE CREATURE POWER SUITS
Jessica Rabbit (Who Framed Roger Rabbit) - OH, MY GOD, IT'S DIP
Mrs. Puff (SpongeBob SquarePants) - WHY ARE YOU STILL ALIVE
Donald Duck (Fun and Fancy Free) - SHUT UP! I CAN'T STAND THIS!
Benson (Regular Show) - MORDECAI AND RIGBY
Nicole Waterson (The Amazing World of Gumball) - GET IN THE CAR, YOU'RE GROUNDED
Jeff (Clarence) - CLARENCE
Vinnie Terrio (Littlest Pet Shop) - NO ONE'S CHANGING THE CHANNEL
Mickey Mouse (Dogs Show) - PLUTO
Pa Gorg (Wembley and the Gorgs) - PLANT, BOY, PLANT
Kion (The Lion Guard: Never Judge a Hyena By Its Spots) - GO
Carface (All Dogs Go To Heaven) - NOW
Mr. Conductor (Dinosaur Train: Adventure Camp) - NOW MISTER
Owl (Barnyard) - HOOT
The Grand Duke of Owls (Rock-A-Doodle) - IT'S AN AQUEDUCT PIPE
Uncle Lester (Runaway Ralph) - YOU'RE BEING DISOBEDIENT RALPH
Blythe Baxter (It's the Pet Fest) - I SAID THERE'S NOTHING TO WORRY ABOUT
Boog (Open Season) - TIMBERLINE IS MISSING
Honest John (Pinocchio) - GET ME OUT OF HERE
Hacker (Cyberchase: Broom's of One's Own) - WHAT
Beast (Beauty and the Beast) - GET OUT
WordGirl - CHANGE IT BACK
Cindy Vortex - (Jimmy Neutron: Boy Genius: Pain, Pain, Go Away) - NEUTRON
Brer Bear (Song of the South) - NOW RIDDUP
Auntie Shrew (The Secret of NIMH) - YOU'RE OUT OF YOUR MIND
Wreck-It Ralph - NO I'M NOT
Stubbs (We're Back! A Dinosaur's Story) - THAT'S COMEDY
Cutter (The Swan Princess: A Royal Family Tale) - ACKNOWLEDGE
Mr. Krabs (SpongeBob SquarePants) - DAY OFF
Koki (Wild Kratts) - SOME MORE SLEEP
Chief Bogo (Zootopia) - HOPPS
Jimmy Z (Wild Kratts) - SHARK
King Louie (The Jungle Book 2016) - YOU WILL
Mitchell Peterson (Ready Jet Go) - JET PROPULSION
Voice Cast
Pinto Colvig...Gabby
Mel Blanc...Bugs Bunny, Owl
Larry Roberts...Tramp
Arthur Q. Bryan...Elmer Fudd
Sebastian Cabot...Bagheera
Mike Myers...Shrek
Ray Romano...Manny
Nika Futterman...Miguel
Jack Black...Lenny
Steve Buscemi...Gingerbread Dad
Max Charles...Kion
Vic Tayback...Carface
Idris Elba...Chief Bogo
Jonathen Malen...Jimmy Z
Christopher Walken...King Louie
Ad blocker interference detected!
Wikia is a free-to-use site that makes money from advertising. We have a modified experience for viewers using ad blockers

Wikia is not accessible if you've made further modifications. Remove the custom ad blocker rule(s) and the page will load as expected.