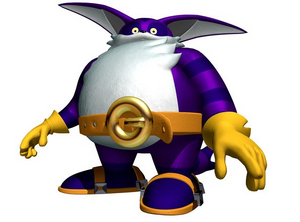 Big the Cat
is a character from the
Sonic the Hedgehog
video game series. He is an overweight, lazy cat, who although none too bright, is also very strong, and loves to fish with his pet frog,
Froggy
. He has been retired from the series.
Video Game Appearances
Sonic Adventure (DX) (1998, 2003)
Sonic Shuffle (2000)
Sonic Heroes (2004)
Sonic Chronicles: The Dark Brotherhood (2008)
Sonic And Sega All-Stars Racing (2010)
Sonic Colors DS (2010)
Bio
Species: Anthropomorphic Cat
Fur Colors: Purple and White
Clothing: Brown Belt, Brown Sandals, Yellow Gloves
Friends: Froggy (Pet Frog), Amy Rose, Cream the Rabbit, Cheese, Sonic, Tails, Knuckles
Enemies: Dr. Robotnik, Metal Sonic
Counterparts (Sonic Version)
Ralph or Runt (Animaniacs)
Earl or Walden (Wow! Wow! Wubbzy!)
Tim the Bear (The Cleveland Show)
Brogan (Shrek)
Bob Duncan (Good Luck Charlie)
Eduardo (Foster's Home for Imaginary Friends, both are big and purple)
Dunbar (Chuggington)
Owen (Total Drama)
Matthew Reese (Zoey 101)
Archibald Asparagus (Veggietales)
Wormmon (Digimon 02)
Neemon (Digimon Frontier)
Muckman, Tatoo (Archie verion), or The Pulverizer (Teenage Mutant Ninja Turtles)
E. Honda (Street Fighter)
Big Bear (Fatal Fury)
Thumpback (Skylanders)
Sasquatch (Darkstalkers)
Angry Grandpa (Angry Grandpa)
Baymax (Big Hero 6)
Baragon (Godzilla)
Kurt the Dung Beetle (Maya the Bee/Movie)
Counterparts (Animaniacs Version)
The Coast Guard (TUGS)
Inverness or Seabright (Theodore Tugboat)
Cormac (Chuggington)
Cacena (Pokemon)
Lanino (31 Minutes)
Good Tarakava (Bionicle)
Patch Boomhauer (King of the Hill)
Magic Man (Adventure Time)
Sziko (Doki)
Doodles (Tweenies)
Grubber (The Powerpuff Girls)
F.B (Roary the Racing Car)
Parodies
Gallery
Ad blocker interference detected!
Wikia is a free-to-use site that makes money from advertising. We have a modified experience for viewers using ad blockers

Wikia is not accessible if you've made further modifications. Remove the custom ad blocker rule(s) and the page will load as expected.