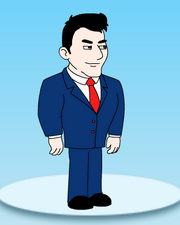 Bill Wynnburg is a Character from GoAnimate Who get grounded every day.
Allies: Becky (girlfriend), Dan, Kara, Freddie, Kimberly, Mr. Diesel (principal), Mr. Tom (teacher), Diesel (father), Kate (mother), Dave (Older brother), Courtney (younger sister)
Voice: Kidaroo
Enemies: Eric (formerly), Memy9909, TheWarren1995
Ad blocker interference detected!
Wikia is a free-to-use site that makes money from advertising. We have a modified experience for viewers using ad blockers

Wikia is not accessible if you've made further modifications. Remove the custom ad blocker rule(s) and the page will load as expected.