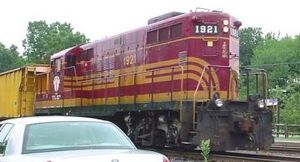 This engine was named in honor of Jay's brother, Billy "Zeke" Marsden, who was also a conductor on the B&M and the Commuter Rail. Zeke's son Billy is following in his fathers foot steps as a Commuter rail employee. During there travels both Jay and Zeke became friends with singer Harry Chapin. Even though Harry is no longer with us, the Marsden's and Chapin's have remained close and Harry's brother Steve wrote this song in memory of Zeke and the 1921.
Ad blocker interference detected!
Wikia is a free-to-use site that makes money from advertising. We have a modified experience for viewers using ad blockers

Wikia is not accessible if you've made further modifications. Remove the custom ad blocker rule(s) and the page will load as expected.