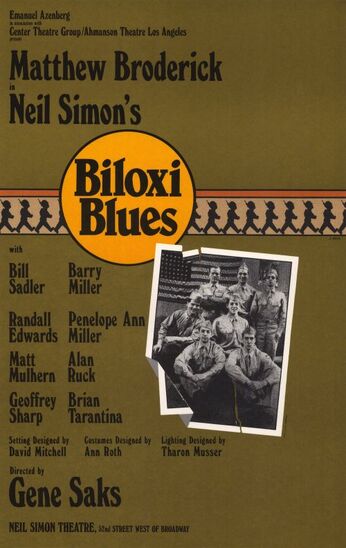 Biloxi Blues
is a semi-autobiographical Play by
Neil Simon
. It portays the conflict of Sergeant Merwin J. Toomey and Arnold Epstein, one of many privates enlisted in the military station in Biloxi, Mississippi, seen through the eyes of Eugene Morris Jerome, one of the other soldiers. The Play is the second chapter in what is known as his
Eugene Trilogy
, following
Brighton Beach Memoirs
and preceeding
Broadway Bound
. The Play won the
Pulitzer Prize for Drama
and the
Tony Award for Best Play
and
Barry Miller
won a
Tony Award for Featured Actor in a Play
for his performance as Arnold Epstein.
Plot Overview
The Story begins with 20-year-old Eugene Morris Jerome from Brooklyn, who is drafted into the United States Army during World War II and is sent to Biloxi, Mississippim for basic training. There he meets a diverse assortment of soldiers, including the gentle intelligent Arnold Epstein, who is the Play's central figure. The piece portrays Epstein's struggle for power with middle-aged, hard-drinking platoon leader Sergeant Merwin J. Toomey. In the Play's most memorable scene, Epstein manages to force Toomey to perform two-hundred pushups in front of the platoon.
Ad blocker interference detected!
Wikia is a free-to-use site that makes money from advertising. We have a modified experience for viewers using ad blockers

Wikia is not accessible if you've made further modifications. Remove the custom ad blocker rule(s) and the page will load as expected.