Bimble's Bucket
 was an animated cartoon shown on CITV created by Michael Jupp the creator of 
The Dreamstone. It Was Shown On The Sofia And Lucy Episode "Lucy Goes Bananas". Bimble trys to shut down Sofia And Lucy's Give Blood Company after his company is going down. Sofia defeats him by kicking him several times. His show was cancelled as Lucy was later watching the last episode where he quit. He later returned for his final appearance in "Sofia's Business Plan" from season 5. He had returned after Sofia started a donating bodies to science company and he died after a fight with her.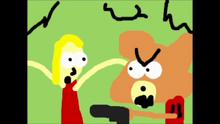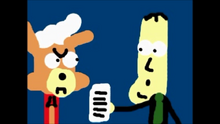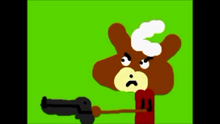 Ad blocker interference detected!
Wikia is a free-to-use site that makes money from advertising. We have a modified experience for viewers using ad blockers

Wikia is not accessible if you've made further modifications. Remove the custom ad blocker rule(s) and the page will load as expected.