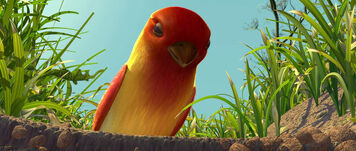 Bird is one of the (former) minor antagonists of Disney/Pixar's 1998 animated feature film, A Bug's Life.
Bio
Alignment: Neutral, later good
Goals: To eat insects and feed her chicks.
Friends/Allies: Her chicks
Minions: Her chicks
Enemies: Flik (formerly), Dot (formerly), Francis (formerly), Slim (formerly), Heimlich (formerly), Tuck and Roll (formerly), Dim (formerly), Rosie (formerly), Gypsy (formerly), Manny (formerly), Hopper and his Grasshoppers
Counterparts

 WARNING: You may add appropriate counterparts. But, do NOT delete any.
See Also
Ad blocker interference detected!
Wikia is a free-to-use site that makes money from advertising. We have a modified experience for viewers using ad blockers

Wikia is not accessible if you've made further modifications. Remove the custom ad blocker rule(s) and the page will load as expected.