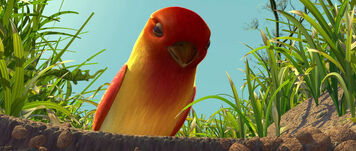 Bird is one of the minor antagonist-turned-anti-hero of Disney/Pixar's 1998 animated feature film, A Bug's Life.
Bio
Alignment: Neutral, later good
Goals: To eat insects and feed her chicks.
Friends/Allies: Her chicks, Flik (currently)
Minions: Her chicks
Enemies: Flik (formerly), Dot (formerly), Francis (formerly), Slim (formerly), Heimlich (formerly), Tuck and Roll (formerly), Dim (formerly), Rosie (formerly), Gypsy (formerly), Manny (formerly), Hopper
Counterparts

 WARNING: You may add appropriate counterparts. But, do NOT delete any.
See Also
Trivia
Although The Bird is female, Heimlich calls her Mr. Early Bird.
Since she killed Hopper, it would mean that she changed her aglinment to the other bugs. just because she watches Flik was tricking Hopper become a bird food.