Piyomon
Piyomon Toei Artwork
Nomes

| | |
| --- | --- |
| Nome Oriental | ピヨモン |
| Romaji | Piyomon |
| Nome Ocidental | Biyomon |
Dados
Nível
Novato
Tipo
Pássaro
Classe
Vacina
Sexo
Feminino
Parceiro Humano
Sora Takenouchi
Geração
I, II, IV e V
Jogos
Digimon World, Digimon World 2, Digimon Rumble Arena 2, Digimon Racing, Digimon World DS
Primeiro
episódio
And So It Begins...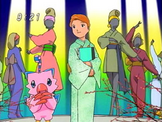 Biyomon (Japonês: ピヨモン) é uma Digimon Vacina Novata.
Biologia
Fisiologia
Piyomon é uma Digimon pássaro de cor rosa com algumas marcas azuis na cabeça e no rabo. Possui um anel em sua perna esquerda e algo que lembra uma "Língua-de-Sogra" no alto da cabeça.
No Anime
Saga Original
Piyomon é a parceira de Sora, uma das sete crianças Digiescolhidas e também uma grande amiga dela. Ela quase sempre finaliza suas frases com "Piyo".
No segundo filme, Our War Game, Piyomon faz uma pequena aparição quando Tai e Izzy entram na rede para ver os Digimons.
Saga 2.0
Piyomon continua como parceira de Sora e ajuda os Digiescolhidos novatos e seus Digimons no mundo digital.
Saga da Fronteira
Um bando de Piyomons viviam no Vilarejo do Fogo onde a aventura dos Digiescolhidos no mundo digital começa. Depois, sob o ataque de Crusadermon, Piyomon foi uma das habitantes que conseguiu fugir.
Saga Savers
Piyomon aparece como a evolução de Puwamon e parceira de Chika, mais tarde, Mercurimon a mata e pega seu ovo, transformando-a em sua serva e a evoluindo para Aquilamon para causar caos no mundo real.
Dublagem
Piyomon é dublada por Mabel Cezar na versão brasileira, Tifanie Christun na versão americana, Katori Shigematsu na versão japonesa de Digimon e Digimon 02 e Haruhi Terada na saga Savers.
Nos Jogos
Playstation
Em Digimon World, Piyomon é uma Digimon que pode ser encontrada na floresta e depois poderá se juntar a cidade na Loja de Itens.
Piyomon é uma Digimon que pode ser domada em Digimon World 2, depois ela poderá evoluir para Birdramon, Saberdramon, Airdramon ou Veedramon.
Playstation 2, GameCube, Xbox
GameBoy Advance
Piyomon é uma das Digimons que podem ser usadas logo no começo de Digimon Racing e mais tarde poderá evoluir para Birdramon.
Ataques
| Ataques Ocidentais | Ataques Orientais |
| --- | --- |
| Spiral Twister | Magical Fire |
| Pecking Attack | Cheep Cheep Attack |
| Violin Attack | Dash Tsuibami |
| Turbo Pecker | Hard Beak |
| | Tsuibami Attack |
Digievolução
Curiosidades
Origem
Piyomon foi baseada em um pássaro.
Origem do nome
Vem da onomatopéia Piyopiyo, que lembra o som de um pio.
---
Ad blocker interference detected!
Wikia is a free-to-use site that makes money from advertising. We have a modified experience for viewers using ad blockers

Wikia is not accessible if you've made further modifications. Remove the custom ad blocker rule(s) and the page will load as expected.