Blefars
---
Blefars is a character from the BIONICLE SAGA series.
---
Personality
Blefars is the wisest Matoran from the group of The Six Matoran. That's why he always helps Paregu and the others take desicions. He is the weakest of all the group, but he doesn't really need to be with the mind he has.
---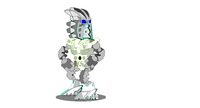 Valuable info
---
Blefars comes from Mat-Akani and wears a white and silver Avohki.
Pablo said
I wanted a Matoran to be intelligent and wise. Then I thought about the Ko Matoran from Metru Nui. So I chose Blefars to be the wise one and also to be a matoran coming from the Akani of Ice.