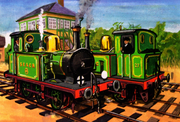 Bluebell and Primrose are tank engine twins who live on the Bluebell Railway.
Trivia
Despite not having faces, Bluebell and Primrose were the first female steam engines to be introduced in the Railway Series.
Of the two engines, only Bluebell is currently operational. Primrose is undergoing restoration.
Although in the illustrations Bluebell is shown in SE&CR pre-World War I livery she was actually painted blue from 1966 to 1998.
Bluebell's ERTL model was in fact Thomas' model merely repainted and with a different smokebox. She was originally going to have her own model. This original (prototype) model had a crew member leaning out of her door. This would have been the only ERTL model to have this feature.
Parodies
Merchandise
Gallery
Ad blocker interference detected!
Wikia is a free-to-use site that makes money from advertising. We have a modified experience for viewers using ad blockers

Wikia is not accessible if you've made further modifications. Remove the custom ad blocker rule(s) and the page will load as expected.