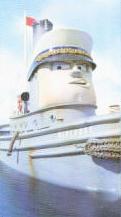 Bluenose
is a character from TUGS.
Counterparts (Villain Version)
Counterparts (Female Version)
Amy (Total Drama Pahkitew Island)
Mother Gothel (Tangled, both are hate-able villains)
Dolores Umbridge (Harry Potter, both are Hateable Villains)
Miss Agatha Trunchbull (Matilda)
Counterparts (Hero Version)
Gordon the Big Engine (Thomas the Tank Engine and Friends)
Big Mac (TUGS)
Billy Twofeathers (Shining Time Station)
Knuckles (Sonic the Hedgehog)
Parodies
Ad blocker interference detected!
Wikia is a free-to-use site that makes money from advertising. We have a modified experience for viewers using ad blockers

Wikia is not accessible if you've made further modifications. Remove the custom ad blocker rule(s) and the page will load as expected.