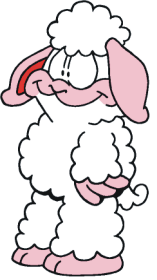 Bo Sheep
is Lanolin's relaxed sheep brother in the series
Garfield and Friends
.
Bio
Species: Anthropomorphic Sheep (presumably Ovis Aries)
Wool Color: White
Allies: Orson Pig, Wade Duck, Roy Rooster, Booker, Sheldon, Lanolin Sheep (sister), Garfield,
Enemies: The Weasel, Gort, Wart, Mort
Counterparts (Boy Version) (Garfield & Friends Version)
Miles "Tails" Prower, Shadow the Hedgehog, Silver the Hedgehog, Sonic the Hedgehog, Rotor the Walrus, Big the Cat, or Espio the Chameleon (Sonic the Hedgehog)
Lazy Luke (Wacky Races)
Toad or Yoshi (Super Mario Bros.)
Antonio Garcia (Power Rangers Samurai)
Digit (Cyberchase)
Young Simba, Zazu, Timon, or Pumbaa (The Lion King)
Counterparts (Girl Version) (Garfield & Friends Version)
Minako Aino/Sailor Venus (Sailor Moon)    
Counterparts (Animaniacs Version)
Guido (Cars 1 & 2)
The Hypnotist (Dastardly and Muttley)
Kevin (Zachary Swain)
Psyduck (Pokemon)
Free Ranger (Skylanders)
Ad blocker interference detected!
Wikia is a free-to-use site that makes money from advertising. We have a modified experience for viewers using ad blockers

Wikia is not accessible if you've made further modifications. Remove the custom ad blocker rule(s) and the page will load as expected.