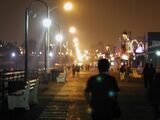 På Boardwalk ligger 60 prosent av
Svenseids
barer, 70 prosent av nattklubbene og 90 prosent av cracksalget foregår her.
Den mest populære klubben Rocket Man eies av Jack Peck.
The Boardwalk har også en nudistavdeling på ca 100 meter. Her er kriminaliteten merkbart lavere, men det er fordi lommetyvene foretrekker andre steder.
Ad blocker interference detected!
Wikia is a free-to-use site that makes money from advertising. We have a modified experience for viewers using ad blockers

Wikia is not accessible if you've made further modifications. Remove the custom ad blocker rule(s) and the page will load as expected.